Check out the Upcoming Mazda MX-30 at Napleton's Palatine Mazda
After its debut at the 2019 Tokyo Auto Show, it's been an exciting time for the new Mazda lineup. The Mazda MX-30 is a brand new all-electric crossover designed with you and your passengers in mind. The all-new Mazda MX-30 is anticipated for pre-orders in late 2020/early 2021. You can contact us at Napleton's Palatine Mazda to get updates on pre-orders and place one of your own when they open up in the United States.

Pricing
Pricing is estimated to start at $35,000 for the Sport trim and will vary depending on the packages, trim, and accessories added to the final MX-30. Pricing is not final, and you can get more specifics when pre-orders open. Be sure to keep an eye out in our new inventory for vehicle updates and special offers.
Trims & Configurations
Similar to other vehicles in the Mazda lineup, there will be the base Sport trim available along with other options like the MX-30 Touring, Grand Touring, and Signature trim. The finalized pricing and available equipment options will be revealed in the future.

Performance
The new Mazda MX-30 will feature a front-mounted electric motor called the e-SKYACTIV powertrain and will come available in a front-wheel-drive configuration. It's anticipated to provide you with up to 141 horsepower and up to 195 pound-feet of torque.
Battery & Range
The Mazda MX-30 is powered by a prismatic lithium-ion battery that has a total capacity of up to 35.5kWh. There will be both DC and AC charging options to give you flexibility in keeping this crossover going throughout the day in Kildeer, IL. DC charging will provide you with a faster charging option, with AC power being the standard option available.

Exterior
One of the unique features of the MX-30 is its freestyle door. These open up to provide you and your passengers with a spacious opening and adds to the overall open design of the interior. It continues on the Kodo design that is carried out throughout the Mazda lineup with a sculpted modern look that can help you express your style.

Interior
The Mazda MX-30 is designed with both the driver and passengers in mind while also being environmentally conscious. The breathable fabric seats are made from recycled plastic bottles and the cabin also makes use of sustainable materials such as cork in the trim and other materials. The cork is harvested by taking the bark from the trees without chopping them down to help make them be low-impact while also adding to the welcoming warmth of the interior. The floating center console adds to the openness as well to provides additional room for passengers.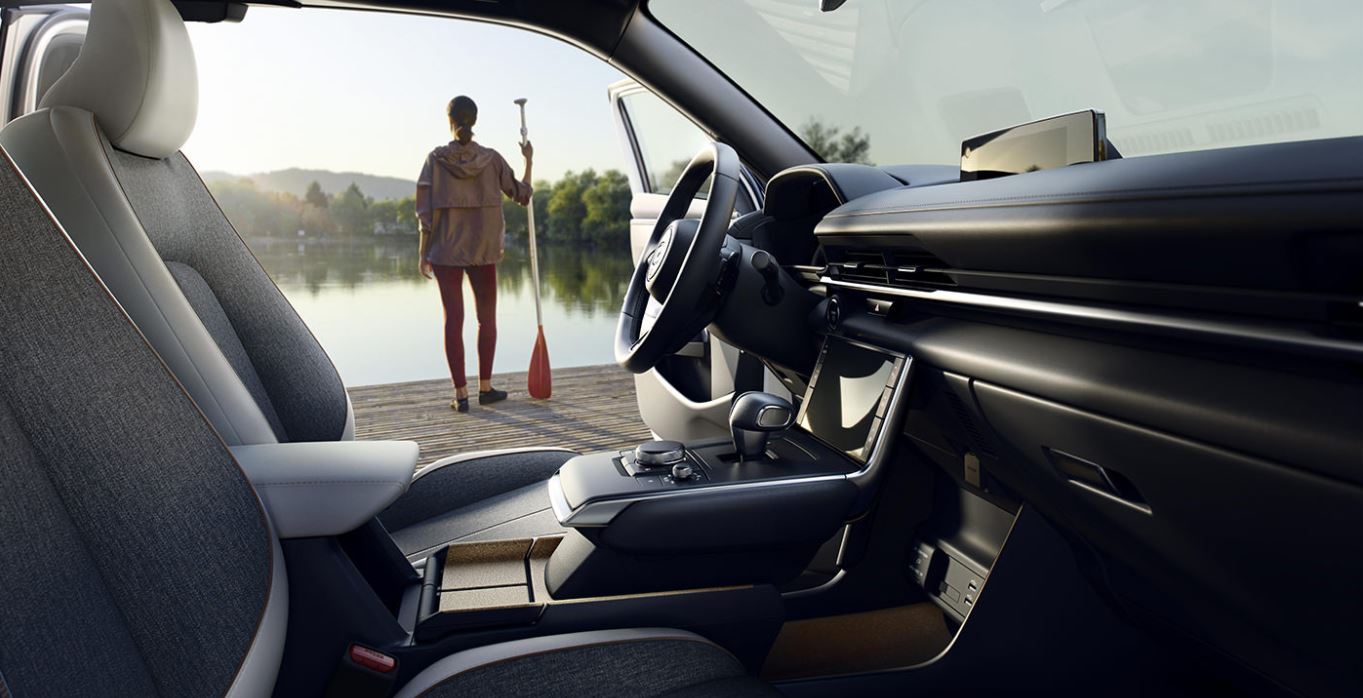 Specifications
The MX-30 near the Hoffman Estates is equipped with standard 18-inch tires. With the AC charging system, you get a maximum charging input of up to 6.6kW. The Mazda MX-30 is just over 14 feet long and 5.8 feet wide. The MX-30's height comes in at about 5.1 feet.
Safety
The MX-30 is equipped with a range of advanced safety features and utilizes the newest version of the i-Activsense system. It has features that are designed to help predict potential accidents, such as Smark Brake Support. When you come to an intersection in Arlington Heights, the system utilizes a collision prevention function to help keep you safe. Even with the Freestyle Door system, the MX-30 is still designed to be durable. It makes use of a rigid body that's designed to absorb the crash energy and the frame is reinforced to help protect the high-voltage battery at the heart of this crossover.
There will also be other available and standard safety features such as blind-spot monitoring. This feature can alert you when there are other vehicles in your blind spots and can even help you when backing out of a spot. Others include lane departure warning, lane-keeping assist, and automatic emergency braking.
Schedule a Test Drive in Palatine
Learn more about the new electric-hybrid Mazda MX-30 and schedule a test drive online at our dealership in Palatine, IL. We look forward to meeting you!